High Performance Training
The 2022 High Performance Program will occur at St. Andrews College from July 4th – August 19th by invite only.
If interested, please contact Tara directly taramckay71@gmail.com.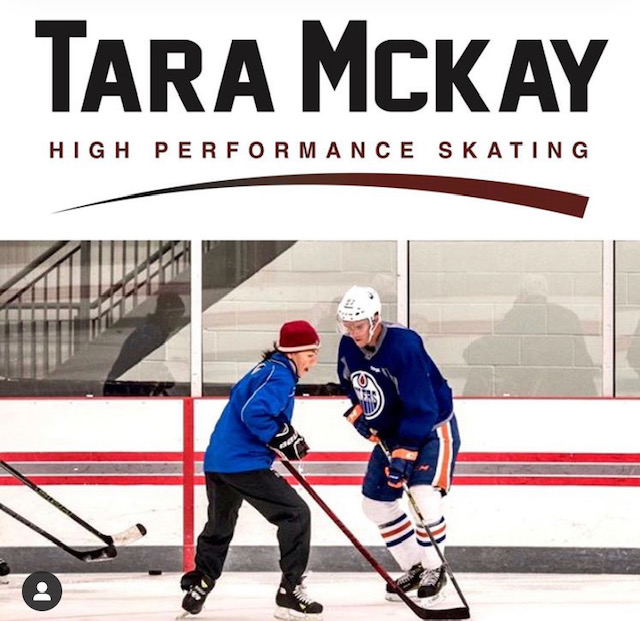 The 2022 Summer High Performance Skating and Skills Program will occur on a weekly basis for AAA players that are accepted into the program. This program is for players want to improve their technical skating and skills.  We will integrate skills into the skating in a methodical manner and provide a minimum of 1 and usually 2 additional instructors aside from Tara to provide a high level of individual attention, correction and reinforcement.
Power Skating Expert Tara McKay offers hockey players the best training in high performance skating. Tara works with elite athletes including NHL Pro players, NCAA, CIS, OHL, Major Junior, and Midget AAA. Tara also continues to work at the grassroots level in minor hockey with several youth programs from the beginner level up to AAA.
Tara comes highly recommended by Gary Roberts. "I've added the best technical skating instructor I know to compliment the work I do with my players in the gym…someone who understands the game, the mechanics as well as the human body".
Tara leads players through intensive on-ice technical skating and intensive on-ice conditioning sessions focusing on improving skating mechanics and technique for improved power, speed and agility.
At the elite level, Tara also utilizes video analysis to enhance learning and accelerate the correction and development of a player's body mechanics and skating techniques. Video is analysed and shared with players, making it easier to understand the corrections they need to make, and accelerates their improvement.
Main areas of focus:
Stride Mechanics and Efficiency of Skating Skills
Edge Work, Balance and Stability
Lateral Movement, Pivoting and Transition Skating
Quickness and Agility, Starts, First Step Quickness
Puck Control Postures and Techniques
Program Goals:
Improving skating efficiency and technique through effective edging work, balance work and technical skating drills
Analyzing and correcting body mechanics through On Ice Training and Video Analysis
Identifying areas of skating weaknesses and ensuring weak areas are corrected
Additional Lead Instructors Include:
Jeff Corbett: Former 5-year defenseman in the OHL as Assistant Captain for Sudbury Wolves, 4-year defenseman with USport for the Brock Badgers where he was an Assistant Captain.  Attended Ottawa Senators Prospects Camp in 2013.  2019-2020 Professional hockey in France for Cergy-Pontoise. Jeff is an excellent technical skater and has worked with Tara for the past 9 years in a lead role. Jeff trained with Tara on ice for 4 years and is now coaching with Tara going into his 10th season of instructing.
Todd Winder: Current Professional player who spent the last 2 seasons in Sweden for Vimmerby Hockey. Played 3 seasons in USports for the University of Guelph in which he was named OUA West Division Rookie of the Year, OUA All-Rookie Team, and OUA First Team Allstar, Assistant Captain, and won a Queens Cup (Ontario Championship). Former Aurora Tiger and Captain of the Newmarket Hurricanes Junior A Team. Todd has been an instructor at Tara McKay's HPS for 12 years and has been in a Lead Role for the past 7 years. Todd is a great leader and teacher who loves sharing his passion for hockey and growing the game.
Group
Location
Dates & Times
Cost
Junior/OHL/NCAA
St. Andrews College (SAC) Aurora ON
Mon / Tues / Wed / Thurs
5:30pm-7:00pm
July 4 - Aug 18, 2022
Click to Email Tara

To be confirmed with Tara based on number of sessions

2009 / 2008
U14 / U15
AAA Invite Only
St. Andrews College (SAC) Aurora ON
Mondays
4:00pm-5:30pm
July 4 - Aug 15, 2022
6 Weekly Sessions (no session Aug 1)
Click to Email Tara

$540 + HST = $610.20
2010 / 2009
U13 / U14
AAA Invite Only
St. Andrews College (SAC) Aurora ON
Tuesdays
4:00pm-5:30pm
July 5 - Aug 16, 2022
7 Weekly Sessions
Click to Email Tara

$630 + HST = $711.90
2007 / 2006
U16 / U18
AAA Invite Only
St. Andrews College (SAC) Aurora ON
Wednesdays
4:00-5:30pm
July 6 - Aug 17, 2022
7 Weekly Sessions
Click to Email Tara

$630 + HST = $711.90
2008 / 2007 / 2006
U15 / U16 / U18
AAA Invite Only
St. Andrews College (SAC) Aurora ON
Thursdays
4:00pm-5:30pm
July 7 - Aug 18, 2022
7 Weekly Sessions
Click to Email Tara

$630 + HST = $711.90